Japan travel guide, information on Japan and Japanese culture.
The current time in Japan is
19:28, Thursday
on July 09th 2020
---
The next national holiday is
Jul 23
,
Umi no Hi (Marine Day).
Japan Update
It's the time of year when millions of Japanese people usually visit parks and other scenic spots where cherry trees are in bloom for "hanami"", or cherry blossom parties. And, even with the ongoing corona virus scare, many people in Tokyo at least are indeed gathering.
There are mixed reports about just what the situation is with the virus in Japan. This was one recent look at the issue.
Feature Content
Karuizawa has long been a popular getaway spot for Tokyo residents. A big part of the attraction is the fresh mountain air and the amazing scenery of the region. We made a selection of the best to help you make the most of a trip to the area.
The Latest News & Entertainment from Japan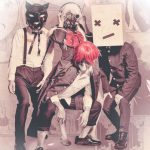 I assume this has actually already been done before, but it strikes me as a clever idea: mix manga and pop. Story Teller Project describe themselves as a "rookie masked band" whose style is "poetry reading and singing, combined with comic pictures!"
---
Emperor Akihito of Japan becomes the first in living memory, indeed in centuries, to abdicate from the throne, bringing the 30-year Heisei Era to a close. His son, Crown prince Naruhito, will formally ascend to the throne at midnight tonight, marking the beginning of the new Reiwa Era.
Planning a trip to Japan?
SIGHTSEEING GUIDES
Browse our extensive sightseeing guide to the whole country, with information on all the major sights.
---
USEFUL INFO
Japan Zone has a wide variety of useful information for the traveler.